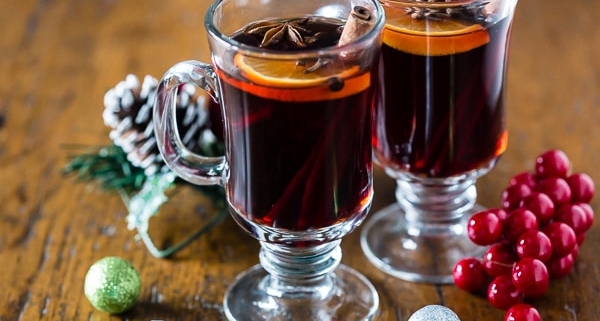 It is my favorite time of year.  Mom and Dad have put up our Christmas trees, there is a chill in the air, and each evening ends with me curled by the fireplace.  The other evening, as I performed my usual sleepytime ritual of bringing my blanket to my mom to spread out on the floor, I smelled the most delicious smell coming from her mug.  When I tried to take a close-up sniff, she pushed my head away and said, "Silly puppy, mulled wine is NOT for dogs."
Mulled wine?!  Is it possible that there is a type of wine that I don't know about? I wonder from which grapes this mulled wine is made.  It was time for me to do some research.  As it turns out, mulled wine has been around for quite some time (since 200 AD, in fact), as the Romans used to drink it during the colder months to ward off colds and other illnesses.  The tradition of drinking mulled wine spread across Europe (as with other aspects of viticulture) as the Roman Empire traveled and traded extensively with other countries.
Today there are many versions of warmed and spiced wines to be found around the globe. Wassail, Glühwein, Glögg, greyano vino, candola, Smoking Bishop, and vin chaud are just a few examples.  If you are interested in trying the many different varieties, might I suggest a tasting party to accompany all of the other holiday festivities.  Recipes are so easy to find all over the web, even I can do it with these big ol' paws of mine!
Scrooge himself even said at the finish of "A Christmas Carol", that there is hardly a better drink to sit and drink with friends.
"A Merry Christmas, Bob!" said Scrooge with an earnestness that could not be mistaken, as he clapped him on the back. "A merrier Christmas, Bob, my good fellow, than I have given you for many a year! I'll raise your salary, and endeavour to assist your struggling family, and we will discuss your affairs this very afternoon over a bowl of smoking bishop, Bob!" – Charles Dickens
Below you will find two recipes that I located on my search.  They both sound yummy to me, but unfortunately, mulled wine is just not for dogs.  If you try these, or any others, be sure to tell us below in the comments!
One easy recipe is to combine two bottle of red wine, two shots of port-style wine, a few oranges that have been cut into 5 segments and stuffed with cloves, 1 tsp cinnamon, 1 tsp nutmeg, 2-5 tbsp brown sugar (to taste).  Let mixture warm over low heat (DO NOT LET IT BOIL) and once thoroughly warmed, strain through filter and serve.  (Source: vivino.com)
A less potent recipe is to mix 1 bottle of full bodied red wine, 4 cups of apple cider, ¼ cup honey, 2 cinnamon sticks, 1 orange zested and juiced, 4 whole cloves, 3 star anise.  Simmer over low heat for about 10 minutes, and then pour into mugs for serving. Orange peels may be added for garnish.  (Source: Ina Garten)
https://www.brixandcolumns.com/wp-content/uploads/2018/05/mulledwinepost.jpg
400
600
Stephanie Pence
/wp-content/themes/sixpenny/images/logo.svg/
Stephanie Pence
2017-12-06 17:03:53
2020-07-24 13:16:11
Mulled Wine