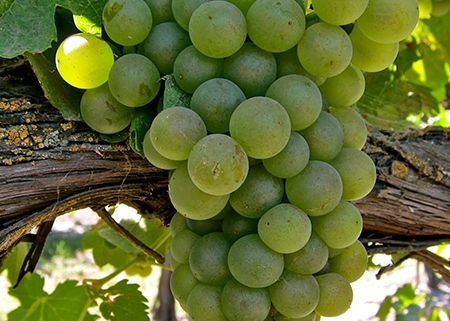 Winston here….  As I was loping through the vines yesterday, I started to think about how much I know about each of our varietals, and I decided I should write a few blogs telling you all the facts and quirks I know about the grapes we have growing here at Six Penny Farm.  Seeing as Viognier (pronounced vee-own-yay) was the first wine specially crafted for us, I am going to start with that one.
This varietal is one of the ancient ones, but it found its fame in the northern Rhone region of southern France.  We are actually quite lucky to still have this delicious varietal as it nearly became extinct in the 1960s when just 8 acres were planted in the entire world. One of my favorite legends about Viognier is the origin of the name.  It has been suggested that the name started as "via Gehennae", and if you are familiar with biblical terminology, you will recognize the name Gehennae as another name for the place of purgatory: Hell.  Taken literally, the original name means "the road of the valley of Hell" and it is supposed that this is a nod to the difficulty cultivars have growing this finicky grape.
It has been long rumored that this grape was Thomas Jefferson's favorite – and he did, indeed, declare that it was the best white wine in the northern Rhone region – but it was not one of the varietals that he cultivated for wine making.  Viognier was first planted in Virginia by Dennis Horton of Horton Vineyards, and their 1993 vintage gained recognition across the state when HV won an award at a wine competition.  Viognier has continued to build its reputation since that time and earned the distinction of being the official state grape in May of 2011; it is now the fifth most common grape grown in Virginia.
Virginia provides an ideal climate for Viognier because it is a grape that "likes warm, dry weather and cool nights" according to Andrew Ornee of Blenheim Vineyards.  The cool nights help the grape maintain its acidity.  This low-yield varietal reaches ideal ripening before hurricane season, and it is often harvested in the early morning in order to produce the clearest juice possible.  Viognier is a vine that can grow for many years and it doesn't even hit its peak until it is 15 or 20 years!
Viognier is a full-bodied white wine with rich, lush characters.  It is quite well-known for its aromas of tangerine, apricot, peach, and honeysuckle; when aged in oak, it develops very pleasant notes of vanilla. All Viognier have a slightly oily characteristic mid-palate that comes from the phenols found in the grape skins.  The pleasant acidity, lavish aromas, and lush flavors pair well with many different foods and flavors, particularly ones that are complex and heavy in spice.
I've got it on very good authority that the Viognier is a delicious wine (it IS my mom's absolute favorite), and I would love for you to come experience our Viognier soon!
https://www.brixandcolumns.com/wp-content/uploads/2018/05/viognierpost.jpg
600
450
Stephanie Pence
/wp-content/themes/sixpenny/images/logo.svg/
Stephanie Pence
2017-09-20 16:58:54
2018-07-07 14:41:55
Viognier