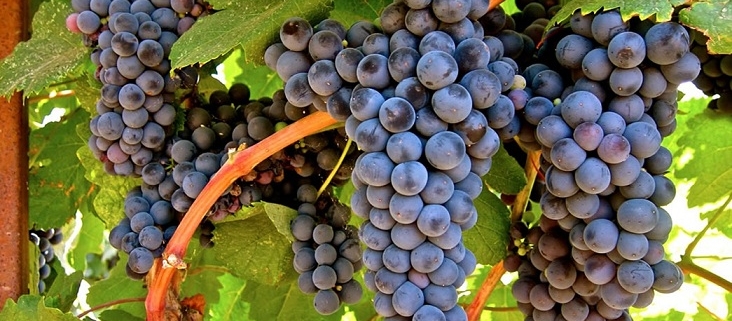 If you are anything like my human brother Taylor, your mouth will start to water at the mere mention of the wine: Petit Verdot.  It has been his favorite since he first tried our lineup in the tasting room.  It was one of the first varietals planted here at SIx Penny Farm, and, curiously enough, also one of the first grapes planted by the Romans in the Bordeaux region. The name itself gives a clue about why some vineyards have steered clear of the grape in recent years.  Loosely translated, "the little green one" offers many challenges to growers as it craves warmer climates and longer growing seasons.  Although it has fallen from favor in the Bordeaux area as vineyards switched to more reliable varietals in the 1960s, it is one of the original six Bordeaux grapes permitted in blends from the area and is often used in limited quantity: just enough to add velvety tannins, hints of herbs, and rich color.
This varietal first made its way to Virginia when Virginia Tech began experimenting with growing it in the late 1980s.  Mostly used in blends, people took note when Ingleside Vineyards (in the Northern Neck George Washington Birthplace AVA) released a single varietal bottle of Petit Verdot many years ago.  Since then, the grape has found increasingly steady footing in the Virginia wine market and has often been hinted at as being one of Virginia's signature reds.
Petit Verdot needs quite a lengthy growing season with both early budding and late ripening making it susceptible to frost.  For this reason, it does best in a warmer climate, and its shallow roots prefer gravelly, thin soil that drains well.  Interestingly enough, this is one of the few grapes that produces more than two clusters per shoot, which helps to make up for the small size of the grape. The ultra dark color of Petit Verdot is characteristic of grapes who prefer warmer climates and this could be due to the thicker skins that allow the grape to be more heat resistant.
Those thicker skins also help the wine produced from this grape to be tannin heavy, and as with all wines that have plenty of tannins, it ages quite gracefully.  Our own Petit Verdot is delicious now, and we can only imagine what it may taste like in another 4 years.  Dry and full-bodied, Petit Verdot is a wine heavily scented with plum, lilac, violet, and sage.  These are the perfect complement to the lush fruity flavors of blackberry, blueberry, and even black cherry.  Often aged in oak to impart flavors of vanilla, hazelnut, and mocha, as a single varietal wine it is the perfect pair for spicy foods, hearty meats, and a score of cheeses.
https://www.brixandcolumns.com/wp-content/uploads/2018/05/petitverdotpost.jpg
523
732
Stephanie Pence
/wp-content/themes/sixpenny/images/logo.svg/
Stephanie Pence
2017-10-04 16:59:47
2018-07-07 14:42:33
Petit Verdot