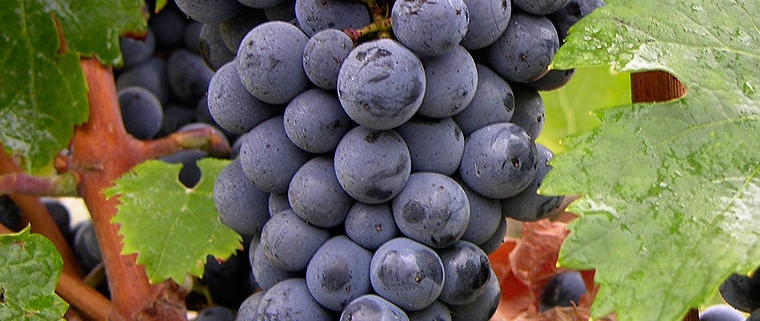 While not nearly as well known as its genetic offspring, Cabernet Sauvignon, Cabernet Franc has earned its own fame and with due cause.  Established in the Libournais region of France, Cabernet Franc grapes were nurtured under an abbot named Breton who has since had his name used interchangeably with the official varietal name.  Later, the grape found its way into the Bordeaux region, and has since been regularly used in the blends connected to that region.
While it's not known exactly when Cabernet Franc made its way to the Virginia vineyard scene, it is undeniable that it has a found a strong and loyal following here.  It is a hardy grape that flourishes in sandy and chalky soils, and it doesn't require a lengthy growing season to flourish.  In fact, it reaches both bud phase and full ripeness at least a full-week earlier, if not more, than Cabernet Sauvignon.  Sometimes called an "insurance" grape because of its resistance to fungus and disease, Cabernet Franc really flourishes when it has to want just a little for water  Being slightly parched allows the vines to produce a fruit that is more concentrated in flavor with less water content.
The characteristics of this grape can produce flavors in wine that range from sweet to savory, reaching anywhere from dark fruits such as plum, blackberry, and raspberry to hints of tobacco, bell pepper, and even eucalyptus.  This is a wine that pairs well with nearly every food dish:  wild game, roasted pork, lamb gyros, a cheese platter, or any roasted vegetables are the perfect accompaniment to a glass of the always delicious Cabernet Franc.
https://www.brixandcolumns.com/wp-content/uploads/2018/05/cabernetfrancpost.jpg
960
760
Stephanie Pence
/wp-content/themes/sixpenny/images/logo.svg/
Stephanie Pence
2017-11-01 17:01:45
2018-07-07 14:44:49
Cabernet Franc