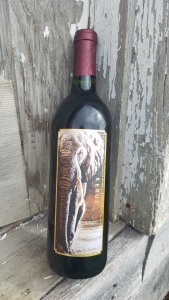 Once you have realized that I am not a Holstein calf or a miniature horse, you don't have to look very hard to see that I am a big, loving dog with a large, welcoming heart.  Even with all of the loving and giving that I dole out at the vineyard (like greeting you at the car and walking you to the door, letting you pet my soft, soft ears, and sniffing all of your coolers as a measure of "quality control") there is still room for a little more loving and giving.  Mom and Dad recently paired up with Kerus Global to create a wine that not only gives you a delicious beverage to savor, but it also gives money from each bottle sale to to a global education foundation that is working hard to make this world a better place.
Kerus Global Education was founded by two local Valley residents, Dr. Cerullo and Dr. Ball.  Kerus, which means doing something with all of your heart, is a wonderful organization that is providing support and AIDS education to children who have been orphaned by the AIDS epidemic in South Africa.  By using the It Takes Courage! curriculum, Kerus works to promote abstinence and faithfulness in relationships in order to lessen transmission rates. They also opened the Kerus Go Amogela Orphan Care Center to provide children who have been orphaned by AIDS academic and emotional support and guidance on making good life choices.  Kerus is making such an impact in the areas that it serves that the local governments have even started working with them to develop government run programs that employ the same educational strategies.
The wine, a Merlot and Chambourcin blend, is a table red and is sure to please everyone's palate.  Notes of jammy dark fruit, vanilla, coffee, and leather on the nose are only a hint of the richness to come.  Once in your mouth, the complex flavors of tart cherry and ripe blackberry envelop the taste buds in a way that makes evident that this medium-bodied wine embodies all of the best qualities Merlot and Chambourcin have to offer.  The artwork on the bottle is particularly striking. Painted by South African artist Adrian Swartz, it features a stunning depiction of an African Elephant. The original painting is now displayed in our tasting room.
Make plans to come out and try our newest red soon.  Having the double benefit of being a delicious wine and doing a good deed for humankind through your purchase, buying this wine will also serve as your perfect cover-up for the real reason that most people come to Brix & Columns: to see your favorite wine blogger, ME!
https://www.brixandcolumns.com/wp-content/uploads/2018/07/20180530_181258.jpg
4032
2268
Stephanie Pence
/wp-content/themes/sixpenny/images/logo.svg/
Stephanie Pence
2018-05-30 15:00:22
2020-07-24 13:15:32
Kerus Red Wine