We've all been to weddings where the bride and groom have attendants: this number can range from one to multiple bridesmaids and groomsmen. There doesn't seem to be any rhyme or reason to the number, other than the desire of the happy couple to include family and friends who have supported and loved them throughout their relationship and, oftentimes, their individual lives. Anyone who has been a bridesmaid or groomsman knows they play an integral role in assisting and providing companionship to the happy couple in the months and weeks leading up to their special day including the wedding day itself. It is hard to imagine a wedding without an accompanying wedding party, but this tradition didn't always exist and certainly not in the capacity it does now.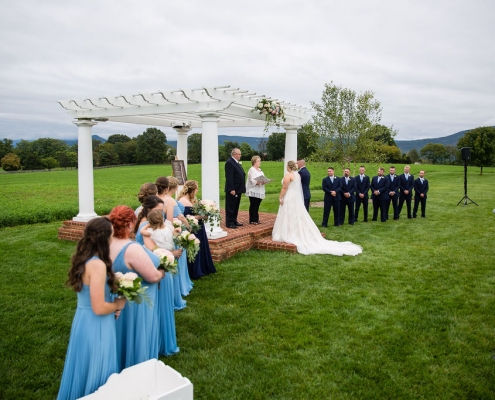 The tradition of incorporating bridesmaids and groomsmen into a wedding ceremony dates all the way back to ancient Rome. Not only did the ancient Romans have a law that required exactly ten witnesses be present at the wedding, five bridesmaids and five groomsmen, but they were also quite superstitious. These superstitions lead to their tradition of bridesmaids and groomsmen wearing matching attire to the bride and groom, respectively, to confuse any evil spirits lurking that might cause harm to the happy couple. The thought process was that if they were all dressed the same then the demons would not be able to target the bride or groom specifically. Their primary function, other than serving as witnesses, was to protect the duo and mainly the bride. In fact, the groomsmen would accompany the bride to the celebration in order to protect her from any thieves who might try to steal her dowry. 
As time progressed, concerns about evil spirits and safeguarding the dowry faded. Eventually bridesmaids were not required to dress exactly like the bride. This was probably a relief during the Victorian era when wedding gowns featured corsets, bustles, full-court trains, and long veils. In those days, the bridesmaids were expected to wear a somewhat simpler white dress with a short veil.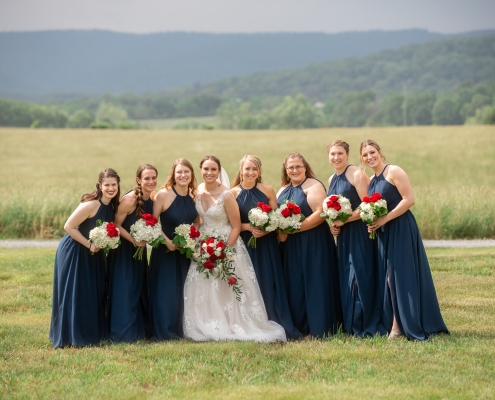 Today, the responsibilities of bridesmaids and groomsmen are much more relaxed and not bound to any of the original expectations or traditions. Brides typically use their personal fashion sense to determine the style and colors that their bridesmaids wear. Groomsmen responsibilities are much less serious now with them no longer protecting the life and wealth of the bride. They are enlisted to plan the bachelor party, usher wedding guests to their seats for the ceremony, and escort bridesmaids down the aisle.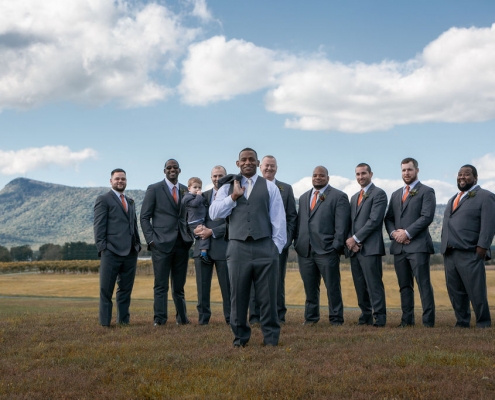 Perhaps there is a part of us that still thinks about keeping bad vibes away on the wedding day, and this might explain why today's brides and grooms continue to have several close confidants by their sides when they say, "I do."
Photos courtesy of: http://j-ellisphotography.com/; http://www.jessryderphotography.com/;    https://berkleytodd.smugmug.com/
Source: simplepleasureswedding.com
https://www.brixandcolumns.com/wp-content/uploads/2019/10/DSC_0782.jpg
1067
1600
Stephanie Pence
/wp-content/themes/sixpenny/images/logo.svg/
Stephanie Pence
2021-10-21 10:56:21
2021-10-21 10:56:21
Of Maids and Men