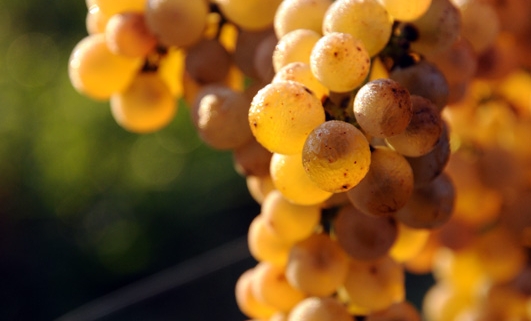 If there is a wine that has been the talk of the tasting room lately, it is our Petit Manseng.  I hear people talking about how delicious it is and how they have never heard of that varietal before.  Fact be told, people are talking about our newest white ALMOST as much as they are talking about me. It's not the first time I've heard of the grape, my mom has been raving about Petit Manseng wines for years.  Made into both dry and dessert styles, this wine is finding popularity all over the world, but it is especially gaining notice in the Virginia wine scene. Are we watching the next Viognier in the making?
Originating in the Southwestern Region of France, this wine sealed its popularity by being used to anoint King Henry IV.  The characteristic sweet and aromatic qualities of this Jurançon grape found a place in the hearts of all who had the pleasure to drink it. After becoming a beloved Jurançon varietal, Basque settlers took it with them to Uruguay (along with one of our favorites: Tannat) to cultivate there.
Dubbed by Matthieu Finot (winemaker at King Family Vineyards) as a "wet weather grape", Petit Manseng has loose clusters of small berries that hold up well to high humidity growing environments.  The thick skin and ability to have increased airflow throughout the cluster makes this grape much more resistant to rot than some other varietals. Even though it does have a low yield and needs a long ripening season, many vineyards are choosing to work with the grape because it can be crafted into a wine that is flavorful, ages well, and has enough acidity that sweetness never overwhelms.
The flavor profile of Petit Manseng is composed of a variety of flavors with tropical fruit, citrus, peach, and a slight nuttiness that is most noticeable when it is young.  As the wine ages, the profiles of honey, preserved fruits, and sweet spices become more notable. It pairs well with many food dishes from spicy Asian foods to sweet pastries, and it is sure to delight your dinner guests when you present it to the table.
I'm starting to notice a trend: grapes with Petit in front of them seem to pack a lot of flavor and are looked upon highly by wine drinkers as full of flavor and overflowing with potential for greatness.  It must be the exact opposite of in the dog world where dogs with Great in front of their name are packed full of personality and handsomeness.
https://www.brixandcolumns.com/wp-content/uploads/2018/07/petit-manseng.jpg
800
531
Stephanie Pence
/wp-content/themes/sixpenny/images/logo.svg/
Stephanie Pence
2018-06-27 14:18:47
2019-05-05 17:13:17
Petit Manseng