There are many aspects of a wedding that give us goosebumps here at Brix and Columns Vineyards. One of those is a glowing bride with a beautiful, traditional-style veil, flowing in the breeze, as she heads down the aisle to say her wedding vows. Of course, there are many brides who choose to not wear a traditional-style veil or have opted for alternative hair accessories like a flower crown, tiara, or flowered-comb, depending on what they feel goes best with the overall vibe and style of their wedding. These bridal hair accessories are equally as beautiful. On the other hand, a traditional-style veil can be one of the most essential and beautiful bridal accessories, for those who choose to wear one, and it certainly has withstood the test of time.
Though many brides recognize it is tradition to wear a bridal veil, many might not understand why. Here is a look at a little history behind the veil.
While there is no definitive reason for the wearing of a veil, many believe it has to do with the ancient Greeks' and Romans' fear of evil spirits and demons. The bride would walk down the aisle with a veil over her face in order to disguise herself from these evil spirits who wanted to thwart her happiness. In many cases, the veil prevented the bride from seeing well, which is why her father or another person "gave her away." She was actually being escorted down the aisle so she wouldn't bump into anything or trip. The veil has also served as a method of shielding the bride's face from her future husband, especially in cases of arranged marriages.
Regardless of the origins, traditional-style veils continue to be worn by many of today's brides who choose anywhere from a longer veil, which presents a more dramatic and elegant look to a shorter veil, which can be fresh and fun. Some brides choose to wear one over their face, but more often than not it's draped over the back of their hair and dress. 
Here at Brix and Columns Vineyards, we are always excited to see the variety of veils and hair accessories that our brides choose to complement their special day.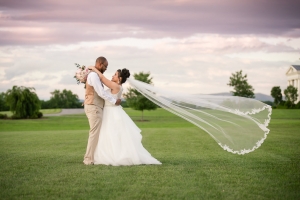 Brix and Columns Vineyards is an elegant all-season farm winery and premier wedding venue.  We are located in the heart of the Central Shenandoah Valley, surrounded by both the Blue Ridge and Massanutten mountains.  We offer southern charm, stunning views, and award-winning wines.
We are conveniently located near Harrisonburg and Charlottesville.  A two-hour drive from Richmond and Northern Virginia, Brix and Columns Vineyards is the perfect vineyard wedding venue location.
Photo Credits – https://www.tallandsmallphotography.com/, Kara Leigh Creative, J. Ellis Photography
https://www.brixandcolumns.com/wp-content/uploads/2020/06/JennyBridal-044-scaled.jpg
1709
2560
Stephanie Pence
/wp-content/themes/sixpenny/images/logo.svg/
Stephanie Pence
2020-06-28 16:24:37
2020-08-04 19:43:02
To Veil or not to Veil